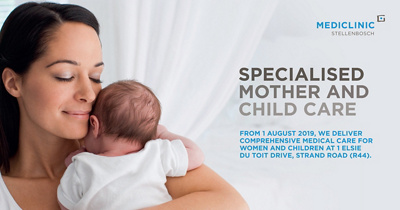 Mothers and children can look forward to receiving expert care in a dedicated mother-and-child unit at the new Mediclinic Stellenbosch. The bespoke unit brings together experts in obstetrics, neonatal and paediatric care – as well as a range of specialists, all conveniently housed in one wing. The unit will be open to patients from 28 July.
The new hospital, which sits on a 15 000-square metre plot along the R44, is specifically designed to reflect the natural majesty of the iconic mountain range behind it.

General wards accommodating medical and surgical patients, as well as a critical care unit and a dedicated Day Clinic are up and running.  The final step in commissioning the new hospital, says Carol van Zyl, Hospital General Manager: Mediclinic Stellenbosch, is to relocate the mother-and-child patients from the old premises into a new, standalone mother-and-child wing as well as the gynaecology unit.
"This is a modern, state-of-the-art facility," says Van Zyl. "But best of all, it's an environment designed with the unique needs of mothers, children and families in mind – it's a peaceful space adjacent to experts in specialist mother-and-child care."
This new space encompasses a five-bed neonatal intensive care unit, a six-bed paediatric unit and a 14-bed obstetrics unit. In addition, paediatricians and gynaecologists will take up residence in seven consulting rooms adjacent to the unit.
Previously, obstetrics and gynaecology patients shared a space. Now, gynaecological patients will be admitted through the surgical unit, while the dedicated 14-bed obstetrics unit comprises eight private rooms and six single rooms.  All the rooms are private for the convenience of the family.
"This is a huge benefit to the community," says Van Zyl, "especially as the hospital has been built with growth in mind. In time, this unit can grow steadily to host more patients, without having any impact on the privacy and solitude that the space provides." This unit has the capacity to be expanded to a 20-bed facility with 6 semi-private rooms.
For mothers, children and families, the unit provides a unique, separate feel while allowing easy and immediate access to specialists within an integrated multidisciplinary team.
On Sunday, 28 July, Mediclinic Stellenbosch will move existing patients to the new hospital, assisted by ER24 paramedics. "ER24 medics have been fantastic in helping to transfer our patients as part of the initial phase," says Van Zyl. "They have previously and will again introduce themselves ahead of time, so that on the day of the move, our patients are attended to by familiar faces."
The need for a new Mediclinic in the Stellenbosch region arose in 2013, when doctors and surgeons at the original hospital teamed together to offer the latest specialist orthopaedic care and were restricted by the space and facilities available.
Now, Mediclinic Stellenbosch offers at their new address at Elsie du Toit Drive, a fully operational 95-bed hospital with 3 theatres and a 24/7 Emergency Centre  as well as a 20 bed, 2 theatre co-located Day Clinic.  From 1 August at Die Boord locality, Mediclinic Winelands Orthopaedic Hospital is home to some of South Africa's most renowned experts in orthopaedic surgery and rheumatology care.  An upgrade project will soon start at this hospital with a planned on site day clinic to be completed mid 2020. The combined acute facilities operate 128 beds with seven theatres.