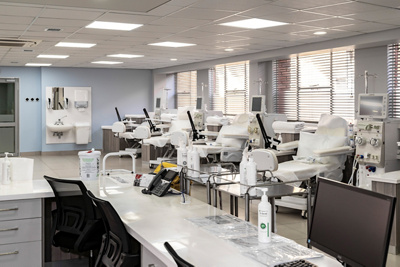 Mediclinic is delighted to confirm our recent expansion of renal services to Mediclinic Pietermaritzburg as part of our vision to expand our offering across the continuum of care for the communities we serve.
The current Mediclinic Pietermaritzburg Renal Services unit is situated inside the hospital, but will later be relocated to a dedicated unit located alongside the hospital. The focus for Mediclinic Pietermaritzburg is creating a centre where all Acute Kidney Disease and Chronic Kidney Disease related conditions can be treated and expertly managed within one facility. This includes all acute and chronic renal treatment modalities, patient support, a unique clinical model, top of the range equipment and technology, qualified and dedicated renal staff, a dedicated Nephrologist in the unit and available support services.
This is the fourth Mediclinic renal services unit to open, with the other branches situated in Mediclinic Bloemfontein, Mediclinic Potchefstroom and in Soweto (a standalone facility), with additional locations including Mediclinic Victoria, Mediclinic Highveld, and units in the Western Cape region scheduled to open next year.
Mediclinic has started expanding their current service offering of acute care services with the introduction of day clinics, mental health facilities, primary care services, and most recently, oncology and renal services.
Koert Pretorius, Chief Executive Officer of Mediclinic Southern Africa, believes it is vital to prioritise this expanded access to care within the business. "We understand that many specialised healthcare services are concentrated in larger towns and cities, but for renal care, which requires a long term relationship between the patient and service provider, local and convenient access is vital."
Mediclinic Pietermaritzburg Renal Services will offer both haemodialysis and peritoneal dialysis to patients in the hospital, as well as those within the community.
The focus of the units is also to deliver the best possible value for clients. "We recognise that the reimbursement costs for dialysis are traditionally some of the most expensive treatments in the private sector. It is our aim to better understand and manage these costs, providing the best value while ensuring that we maintain expert clinical care to meet our patients' expectations across the continuum of care," explains Brian Prinsloo, Chief Executive Officer of Mediclinic Renal Services.

"Renal care is a chronic, long term requirement where patients may often receive dialysis therapy for four hours, two to three times a week. A strong relationship and trust between all the parties is essential. For this reason, Mediclinic believes that this offering will serve to support our patients in a way that addresses their need for value and easy access," explains Pretorius.

Mediclinic Renal Services provides a unique service offering, including dedicated Medical Directors (nephrologists) for each unit, world class technology and equipment, experienced staff within a patient friendly environment, the option of undergoing holiday dialysis in selected towns and a range of entertainment through access to content via dedicated tablets at each dialysis station. "We want our patients to know that their care is our greatest priority and that we will be focusing on ensuring that their patient journey exceeds their expectations," concludes Pretorius.
For further information please contact:
Mediclinic Southern Africa

Tertia Kruger: Corporate Communication Manager
Email: tertia.kruger@mediclinic.co.za
Tel: 021 809 6500