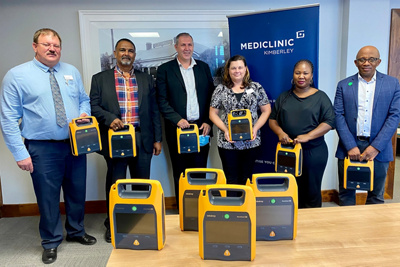 On Monday, 7 March representatives from Mediclinic Southern Africa handed over specialised medical equipment in the form of automated external defibrillators (AEDs), worth R1.5m to the Northern Cape and Limpopo Department of Health.
In total, 119 AEDs will be donated (80 for Northern Cape and 39 units for Limpopo) to assist in responding to sudden cardiac events. These units will be distributed by the Department of Health, as required, providing much needed equipment to respond in medical emergencies.
This initiative is part of ongoing partnerships in place between provincial health departments and Mediclinic, which form a valuable connection between private and public sectors. The collaborative engagements have varied between support around surgical waiting lists, PPE during the peak of the COVID-19 pandemic as well as donations of medical equipment as needed across the country.
In expressing his appreciation for the partnership, the Northern Cape Health MEC, Mr Maruping Lekwene said, "This donation will assist towards improving lives of our people through, amongst other things, the provision of quality health services. We are currently exploring further pro bono surgeries with Mediclinic, with a view to reducing the surgical backlog for particular procedures. The associated surgeons and hospitals in the province plays a key role in servicing areas of concern, particularly where COVID-19 may have impacted our capacity to respond in non-life threatening procedures."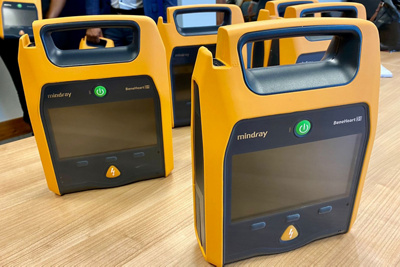 "We believe that these relationships let us support the public health sector with the enormous task they face on a daily basis. Where we have the skills, resources or capacity, Mediclinic is committed to providing this support wherever needed," says Bob Govender, Industry Affairs Executive for Mediclinic Southern Africa. "I am so relieved that we have been able to resume our pro bono assistance following the reduction in COVID-19 cases. We have started with ENT and cataract surgeries across a few provinces, and we are exploring where we can get involved and plug into the needs across the country. This is how the whole country benefits – when we work together to find solutions facing our industry."

Current statistics indicate that about 130 heart attacks occur every day within South Africa. The provision of these AEDs will offer immediate medical intervention to improve the possible outcome for such incidents. The units offer ideal solutions for locations such as schools, offices or sports stadium, where those with some training can quickly respond to an emergency.
For further information please contact:
Mediclinic Southern Africa
Corporate Communication
Telephone: 021 809 6500
Northern Cape Department of Health
Mr Lebogang Majaha
Spokesperson: Northern Cape MEC for Health
Telephone: 0718836404
Email: lebogangmajaha@gmail.com