The Mediclinic Southern Africa Corporate Social Investment Programme aims to make a meaningful impact in the communities where we operate. Through our efforts we hope to close socio-economic gaps and support an environment in which all people can thrive and develop. As a company, we are driven by the need for continuous improvement and to find creative ways in which we can increase our impact on disadvantaged communities. It is imperative that we continue to engage with all relevant role-players so that we are able to understand that current challenges facing the communities within which we operate so that we make a meaningful sustainable impact with any initiative that we undertake. Scroll down to read more.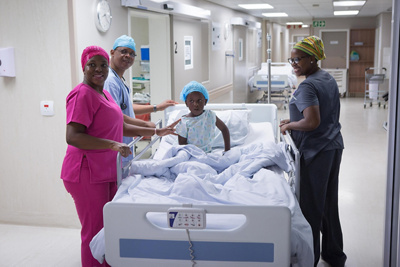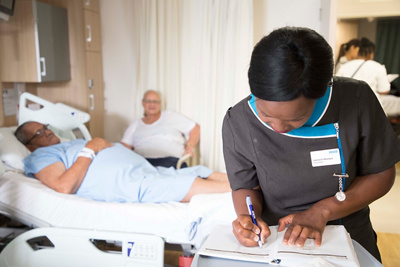 Key consideration is given to working collaboratively so that we can build strong relationships and partnerships so that we can achieve our high level objectives of:
• Make a meaningful contribution within our communities we serve with the intention of have the broadest impact possible with each initiative we undertake.
• Contribute to Mediclinic's transformation agenda and social development in South Africa.
• To leverage our CSI initiatives to assist in strengthening key relationships within the provinces we operate.
•  To enhance our organisational reputation and be recognised as a socially responsible corporate citizen.
•  Provide that platform for our employees to become more involved in the communities they come from and live in.
Our CSI programme is based on three Tiers: 
• Tier 1 - Government Partnerships: To partner with provincial governments to address backlogs in state hospitals so as to assist the community with much needed surgical support in various disciplines. This is achieved by making resources at our hospitals as well as partnering with the private doctors to address the backlogs.
• Tier 2 - Community Partnerships: Supporting the activities of accredited community organizations in achieving their stated objectives through providing monetary and product support. The four focus areas are education, health, welfare and environment. We do this by partnering with third parties such as the National Department of Health, or a Section 21 organisation which could be a Non-Profit Organisation (NPO), Non-Governmental Organisation (NGO), Public benefit Organisation (PBO) or Community Based Organisation (CBO).
• Tier 3 - Employee Partnerships: A volunteerism platform that allows Mediclinic employees to make a difference using their time, expertise and knowledge to enhance community organisations in the communities around our hospitals. The volunteerism projects are undertaken by the employees in teams and during working hours.
The projects conducted under each of these pillars are a reflection of Mediclinic Southern Africa's ongoing commitment to contributing to address a host of social problems in our country and to being a positive force in making a difference in the lives of all South Africans.
Mediclinic believes that we can drive our goals by forming long term partnerships with organisations that share our vision.
Should you wish to be considered as a partner, please provide the relevant information below: