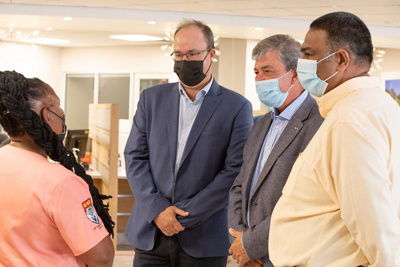 On Friday, 12 November, 3 additional patients will undergo orthopaedic surgery as part of the collaboration between the Western Cape Department of Health and Mediclinic. These patients are additional to 9 surgeries already completed at Mediclinic Constantiaberg, as part of the ongoing Public Private Partnership.
The motivation behind these surgeries is to utilise spare capacity available in the private sector to support the long waiting lists being experienced at public hospitals. The average waiting time for this surgery in a State hospital can be about 5 years. Specific needs around waiting times for orthopaedic surgery are essentially access to theatre and skilled staff to assist/perform the procedures.
Both hip and knee replacements will be performed on the day.  Dr Deon Engela, Dr Paul Rowe and Dr Nick Martin are involved with this initiative as part of the Joint Care Trust, a non-profit organisation established in 2012 to assist with replacement surgery for public sector patients. The pro bono contribution of the surgeons and donations of implants is what makes these partnerships possible.

Patients are identified by Dr Rowe (Victoria Hospital), based on a set of evaluation and criteria, are selected and brought to Mediclinic Constantiaberg for surgery. Mediclinic provides the nursing care and theatre facilities, while associated surgeons contribute with their expertise. Implants are donated to the Joint Care Trust by Advanced Orthopaedics.

"We have a long and valuable relationship with Mediclinic," says Western Cape Minister of Health, Dr Nomafrench Mbombo. "In the public sector we have great doctors and well-equipped facilities, but long surgical waiting lists. The COVID-19 pandemic has put additional strain on our resources, especially for those who are waiting for elective procedures - and partnerships with the private sector make a huge difference. Today's surgeries are not minor surgeries. They help people walk again, to move without pain again, to get back to their lives and help their communities again."

"Mediclinic is especially proud, as we realise what a significant impact these surgeries will play in improving the quality of life for these patients. Allowing them to return to work, as well as experiencing better mobility and less pain," explains Henk Laskey, Hospital General Manager.

Dr Engela explains, "Our relationship has been extended from working at Mitchells Plain hospital and Victoria Hospital to doing the surgery at Mediclinic Constantiaberg" he explains, "Once patients have recovered, we know that their mobility, health and their quality of life will be improved. It is essential that we keep reaching out to the public sector, to offer up the skills and facilities we have in the private sector. It is about expanding access and making a difference."

Jonathan Vaughan, CEO of Victoria Hospital: "It is through public private partnerships such as the one between Victoria Hospital and Mediclinic that we can grant access to more patients requiring this life-changing surgery. Not only will this result in more time for patients in theatre, but it will enable sharing of skills, experience and vital resources that will ultimately improve the outcomes for the communities we serve."

An additional benefit of the CSI surgeries at Mediclinic Constantiaberg is the training received by Dr.Woyisile Nkomo, an orthopaedic surgeon with an interest in hip and knee replacements, who currently works in the public sector in Qwa Qwa. While Dr Nkomo completed his training and fellowship during lockdown, the pandemic limited his exposure to these surgeries. As replacement surgery is complex, many surgical procedures are required to give adequate exposure and experience. Advanced Orthopaedics are assisting Dr Nkomo with his expenses, for him to attend these surgeries and gain further exposure to the complex surgeries. The value gained will then be transferred to patients within the Qwa Qwa community.
During the pandemic, Mediclinic had to temporarily suspend these surgeries in order to support the community with their COVID-19 needs, but is now in a position to resume surgeries for patients on waiting lists within the public healthcare sector. "We are exceptionally pleased that our CSI collaborations can now resume. These were impacted by the COVID-19 pandemic, and we have been able to take up various opportunities within both the Western Cape and Free State province in recent months, with ophthalmic surgeries also taking place for patients on the state waiting lists," explains Bob Govender, Industry Affairs Executive, Mediclinic Southern Africa.

"Projects such as this place an additional administrative burden on everyone, and we thank all involved including management, theatre nurses, clerks, and doctors both from Victoria Hospital and from Mediclinic Constantiaberg," says Bob Govender.

During the 2019/2020 financial year, Mediclinic assisted 300 individuals by performing surgeries including ENT, urology, cataract, orthopaedic procedures amongst others. The collaborative surgeries have assisted in fostering stronger relationships between the private sector and various provincial departments of health, exploring workable solutions in the move towards a more accessible healthcare system for the country.

To ensure that the most appropriate patients are being identified, Mediclinic receives the lists compiled by the partnering public health facility, in this case Victoria Hospital, where patients are selected from their respective waiting lists. Patients are usually admitted to the Mediclinic facility on the morning of the surgery and undergo the relevant procedure under the care of the Mediclinic team.

Mediclinic remains committed to these collaborations with the public sector and will continue to seek out opportunities to interact and support where needed, developing workable solutions for the challenges faced within the industry, and thanks the specialists involved in these surgeries for their time and dedication.