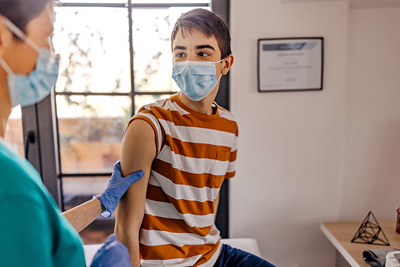 The National Department of Health has recently announced that 12 – 17 year olds will now be eligible for COVID-19 vaccination. This is an encouraging step, as it paves the way for a safer learning environment for students by lowering the risk of infection as well as reducing the risks of severe illness or death. It also lowers the risk to vulnerable members of the public teenagers engage with.
To help guide parents in this process, we have the following guidelines around choices made for care as outlined as children's rights within South Africa. It is important within our community, that each individual is informed and can make the right decision about their care.
Within South Africa, a child may consent to his or her own medical treatment or to the medical treatment of his/her own child if:
The child is over the age of 12, and
The child is of sufficient maturity and has the mental capacity to understand the benefits, risks, social and other implications of the treatment
The child is duly assisted by his or her parent or guardian
Dr Gerrit de Villiers, Chief Clinical Officer of Mediclinic Southern Africa explains why it is so important for all individuals to get vaccinated and protect their health. "We unequivocally support the vaccination against COVID-19 based on evidence led research around current COVID-19 vaccines. This peer-reviewed research provides a strong indication of the dramatic impact the vaccine offers as protection against severe illness and the risk of death. This has been demonstrated by many different COVID-19 vaccines and in a number of countries with more than 6 billion vaccines administered around the world."
Many nations have preceded South Africa in the vaccination of under 18 children including the United States of America, Ireland, Spain, Netherlands and France. The South African Paediatric Association (SAPA) have welcomed the approval of Pfizer for children, and have also stressed that parents have nothing to be concerned about when it comes to the safety of the vaccine.
"If we want our children to enjoy a return to safe and accessible learning, we need to ensure that we have provided them with the best possible protection – the COVID-19 vaccine. This will allow for a much reduced risk of infection, and where this does occur – our children have a much lower risk of being seriously ill. With the development of variants, we cannot predict how long the virus will be present as a pandemic, and it is important that our children return to a more normal and safe environment for learning," he concludes.
The COVID-19 Pfizer vaccine will be administered to this age group, with a single dose at this point (the decision related to a second dose will be assessed over time).
Mediclinic encourages you to identify your closest Mediclinic vaccination centre offering the Pfizer vaccine, and to make an appointment at your convenience.