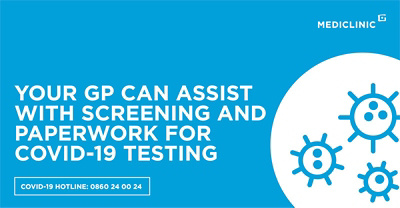 The current COVID-19 pandemic is an ever evolving situation and Mediclinic hospitals are fully prepared to assist patients requiring urgent medical assistance, in association with the community network of healthcare professionals that can support patients with day-to-day requirements. As such Mediclinic Cape Gate and Mediclinic Louis Leipoldt have engaged with community healthcare providers to create a support network to assist with the increased needs for screening and testing of patients.
Any community member who suspects that they have COVID-19 can contact their local General Practitioner to arrange an appointment for assessment. If you are unsure of your symptoms, you can visit the Mediclinic website or call the Mediclinic COVID-19 Hotline on 0860 24 00 24 for further information.

We encourage the community to limit their risk, by making an appointment to visit their primary healthcare provider in advance. This reduces the risk to patients, doctors and support staff.
Should you be assessed and it is deemed necessary for a test to be performed, your General Practitioner will complete the necessary paperwork and referral letters for testing. You will also be advised of the testing process and asked to compile a list of contacts who you may have encountered in recent days.
These documents will be required when presenting to a testing station and are prescribed by the National Institute for Communicable Diseases as part of the screening process.
If you are a member of a medical scheme, and your doctor indicates that a laboratory test (i.e. a swab is taken) is warranted based on your symptoms being COVID-19 related, your medical scheme will be expected to pay for both the GP consultation fee and the laboratory  fee (as this is deemed a Prescribed Minimum Benefit).