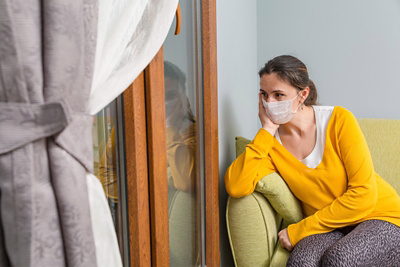 Concerned you may have contracted coronavirus disease? Here are the steps and precautions you can take to protect yourself and others.
COVID-19 is an enigmatic disease that affects individuals differently. What is true for everyone, however, is that from the moment you're infected, you become a danger to those around you. This is why self-monitoring for symptoms, and self-isolating if potentially infected, are essential – both for yourself and others. 
'For some, coronavirus disease may feel no more serious than a light flu, or present no symptoms at all, while in others it can be completely incapacitating and even fatal,' says Yolanda Walsh, Nursing Odyssey Programme manager: Mediclinic Southern Africa. 'Many people have reported being exhausted – and incapacitated for weeks. Others are asymptomatic. It seems the majority have a mild form of the disease – but there is no guarantee that the way it affected you, will be true for the way it affects those who are infected by being in contact with you.'
The real danger, she explains, is that you could spread the virus to others without knowing you're infected. 'The severity of the case will depend on the immunity of the host. If you're particularly run down, physically stressed, or your system is compromised by age or another chronic condition – such as high blood pressure, obesity or diabetes – you are more susceptible to becoming quite ill if infected.'
So what should you do?
The first step is to understand your own risk profile. 'People with reduced immunity, such as the elderly, or those with hypertension or type 2 diabetes, could develop an overwhelming inflammatory response once they're infected with SARS-CoV-2,' Walsh explains. 
In South Africa, rates of chronic high blood pressure, obesity and diabetes are high, putting a majority of our population at greater risk. 'Interestingly, the data does not show a strong link between respiratory conditions, such as tuberculosis and asthma, and COVID-19.'
Then, monitor your health on paper and in real time. If you feel you're at risk, you don't want to go to hospital unnecessarily or wait until it's too late. A quick and effective solution: Mediclinic's online screening tools help you check and track your symptoms, day by day. 'These are clear and concise questionnaires that will guide you in knowing if you should be tested, if you should self-isolate or if you should visit a hospital,' says Walsh. 'Visit these screening portals regularly – they will evaluate your risk and make appropriate recommendations based on clinical criteria.'
Lastly, remain vigilant. 'It's not paranoid to know what the symptoms are, to take precautions and to check yourself for warning signs regularly,' says Walsh. 'In fact, it's responsible. You're at your most contagious two to three days after being infected, while you're still asymptomatic. Even as the lockdown regulations ease, this is not a time to relax, just yet. Keep your physical distance, wear facial cloth masks and wash your hands regularly.'
For more information on how to self-isolate yourself from friends and family effectively if you think that you have become infected, visit our step-by-step guide to self-isolation procedures.