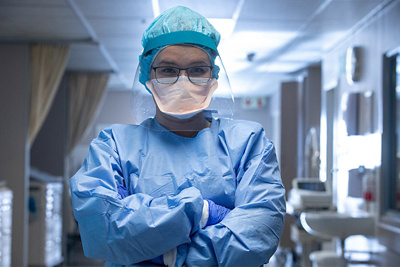 Frontline healthcare workers are under enormous stress as they fight together to contain the effects of a pandemic. So what can we do to reward their efforts?
Hospital employees have challenging jobs at the best of times, tasked as they are with helping people through what may be the toughest or most painful time of their lives. Today, they are faced with new stressors, from personal protective protocols to a constant risk of infection. 
The good news? They are receiving support – and you can help too. 
'For the past few weeks I've had the opportunity to spend a lot of time in a hospital, conducting debriefing sessions, speaking to frontline employees, and getting a clear picture of the stress they're under,' says Monique Hector, an organisational effectiveness specialist at Mediclinic Southern Africa, who has been working with the group's human resources department to help employees cope with the effects of managing this pandemic. 
That stress is unique. 'They're worried about two things mainly: that they might bring COVID-19 home to their families, and that – because this virus is so unpredictable and escalates so quickly – they might not be able to give their patients the help they need, no matter how hard they try.'
Personal and professional anxiety is a potent mix. Add to those the constant stress of knowing they may become infected at shopping malls or even out for a walk on a weekend, and it can feel as though there's no safe space to retreat to. 
On top of all this, lies stigma. 'In the community, people who know you're a healthcare worker in a hospital – people who in normal circumstances would stop and smile and speak to you – are now fearful,' says Hector. 'They may be concerned that you're bringing coronavirus disease into the area and putting them at risk. Perhaps this is understandable, but for our frontline employees, it's disorienting and alienating too.'
Hector and her team conduct group debriefing sessions and team-led interventions that give these employees members an outlet to express their fears and frustrations, and an opportunity to be heard by leadership teams. In this way, employees on the frontline are empowered to work more effectively, with reduced fears and anxieties, using strategies to assist them in dealing with their challenges in the current circumstances. 
You can help. Trust the process and follow prescribed practices and protocols, says Hector. 'Keep your social distance, to protect yourself. Wear masks, to protect yourself as well as others. And have some empathy for each other. Stigma doesn't help anyone stay safe.'
Many nurses are working long shifts, treating very sick patients, with limited breaks. This 'new normal' challenges us all to be a little kinder and a little more patient, for the greater good. 'Small moments of compassion go a long way,' she says. 'When you arrive at the hospital and are told you cannot visit your family member, who might be ill or injured in isolation, that is immensely frustrating, of course – but know this: the employees who are there to help you are trying to keep everyone in the facility, and you, safe from infection.'
This is no time to relax. 'It may be a natural impulse to associate the national lockdown with the disease. But just because regulations are being eased, doesn't mean this virus is on holiday. Social distancing matters. Masks matter. The best way to reward healthcare workers for their sacrifices is by doing your part to stay safe, and keep those around you safe as well.'