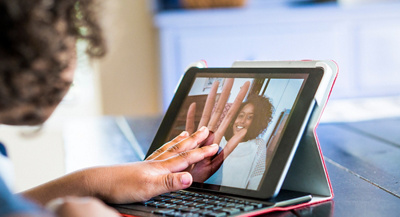 During the COVID-19 pandemic, many people were forced to be innovative and find new ways of doing business. Online sales climbed and people began conducting business meetings via Zoom instead of boardrooms.
Within the healthcare industry, patients were the ones most impacted by regulations requiring social distancing and isolation. Visitors could no longer freely visit facilities as efforts to curb infections had limited this interaction. This resulted in patients feeling isolated and family members keenly waiting for phone calls from nurses and doctors for any updates.
This situation was transformed within Mediclinic hospitals when long-term patients and those unable to communicate with their family members themselves were offered a virtual lifeline for interaction. Patient Experience Managers across the division began liaising with family members and scheduling virtual visits, while relaying messages of love and hope.
We spoke to these team members and asked for feedback on the interactions they were able to arrange.
"I have seen tremendous value in being the link between patients and their loved ones. I have been playing voice notes and video clips from loved ones to patients via a tablet. These patients are often unable to communicate back. Not only has this given the loved ones a voice, it created an opportunity to share messages from the heart - sometimes words of encouragement, sometimes prayers, sometimes songs. Then during the recovery phase, the patient begins to communicate back, and then their eyes light up when they hear the familiar voices on the other side of the screen. What a privilege to be part of this journey," says Madali Groenewald, Patient Experience Manager at Mediclinic Cape Gate. She continues, "There is no doubt in my mind that this tool has ignited the fighting spirit within ill patients; and a spark of hope in the hearts of their loved ones."
Nadira Behari, Patient Experience Officer at Mediclinic Morningside remembers, "The tablet was brought to a patient in the ward and he was offered the opportunity to have a conversation with his wife. He was so overjoyed that he told every person that came in that day that he got to see his wife through the phone!"
Liezl Furlong, Patient Experience Manager at Mediclinic Sandton explains, "What an honour to have been able to connect families with their loved ones during this time. Watching a patient's face light up when he realises it is his daughter's face on the screen in front of him. Listening to words of encouragement and love, even when the patient is no longer able to respond. Holding a patient's hand and feeling her gripping my hand while her daughter is telling her that she is right there holding her hand. Standing outside the front door, teaching a senior citizen how to answer a video call from me so that we can connect him to his wife. This has been a humbling and life changing experience for me, in every way."
However, while some moments have been joyous, in other instances it has been bittersweet. A recent admission to Mediclinic Constantiaberg resulted in a beautiful message to the Patient Experience Manager, "I wanted to commend to you the kindness, generosity, and courage of Mr Renaldo Adams in keeping us in contact with my mother. On Monday 22 June, in an act of great courage, he took his phone into my mother's room so that we could say a final video goodbye to her."
Mrs Rabotapi, a family member sent this message of appreciation after her virtual experience arranged by Mediclinic Midstream, "The video call really helped a lot, and it gave us hope. We needed it as a family and seeing that he was ACTUALLY fine was the cherry on top, we were relieved. It helped us because we cannot even see our family member due to this pandemic and it helps them cope with the situation and helps patients recover faster. I honestly support the video call, not only is it important for family but it gives them hope. My family and I would like to thank the doctors and your team for the wonderful work. Once again thank you very much and keep doing those video calls."
Morris Pama, Patient Experience Manager at Mediclinic Durbanville explains where he sees the value, "The reason we invest more in these platforms is because we understand the importance of connecting patients with their loved ones. This helps with healing and for psychological wellbeing. We have implemented a daily call from our nursing team for our patients, where the hospital will call the indicated family member each day with an update on the patient's condition, allowing them a chance to ask questions but also receive reassurance through the updates."
At Mediclinic Bloemfontein, a quiet moment meant the world to a brother. A construction worker's sister was admitted to the Covid ICU. He came in daily for updates on his sister's condition and the hospital was able to arrange a WhatsApp video call for him once his sister was weaned off the ventilator. It enabled him to see and speak to his sister one last time before her passing, which was greatly appreciated by the family member, explains Barbara Steenkamp, Patient Experience Manager at Mediclinic Bloemfontein.