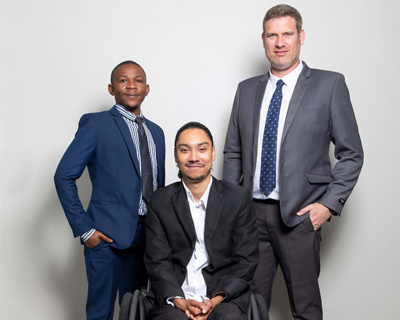 Morris Pama (left), De Wet Herbst (right) and Sebinio Theunissen (middle).
It's been wonderful to see our doctors and nurses receiving the recognition across various platforms over the past two years. Now, in celebration of International Men's Day, we showcase some of the men working behind the scenes to make Mediclinic a world-class company.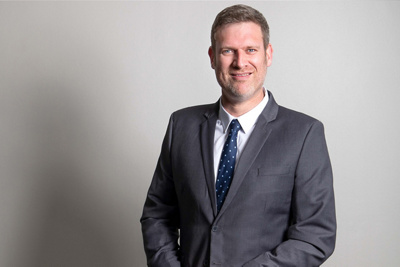 "I Always Wanted To Work At Mediclinic And At Last I Do"
De Wet Herbst
Doctor Relationship Manager, Mediclinic Louis Leipoldt
De Wet had wanted to work for Mediclinic for a long time before he eventually joined in the middle of 2019. He'd studied to be a pharmaceutical rep and of all the hospitals he visited while working in that field, the Mediclinic buildings stood our as being clean, modern and welcoming and he liked what the brand stood for.
But when his early applications were unsuccessful, De Wet left the medical field entirely and joined their family business, which was involved in manufacturing timber products for the construction industry – until one pivotal evening when he spotted an online job ad for a position at Mediclinic and decided to try one last time.
The construction detour was a compromise at the time, but De Wet says the business experience he gained during those years has equipped him for his current role, running the business side of the hospital. And while the pandemic certainly shook things up, he feels the changes it brought – improved communication channels and creating unity in the face of diversity – have actually made his job easier.
But it's the culture that De Wet enjoys most about Mediclinic. He appreciates the openness and flat hierarchy. "My first day, we had to go to corporate office to meet the executives. I stood in the cafeteria, very nervous, and ordered a coffee and there was this guy standing next to me and he offered to pay for my coffee," he recalls. "Later that afternoon I discovered that was the CEO of the company!"
Right now, De Wet is focusing on learning as much as possible to have a meaningful impact in his current role and to add value in other areas of the business in future – hopefully through marketing or management. With his affinity for the Mediclinic brand and culture, De Wet is sure to enjoy a successful career with the company he always wanted to work for.
Parting Wisdom
Q: How can men make the world a better place?
A: "Men should be fathers to their children, husbands to their wives and respectful towards their parents and the elderly again."
Q: What is your message to other men?
A: "Life is unnecessarily complicated these days, at the very basic nature of being human. Try to make a small, positive impact in someone's life every single day and you will add unmeasurable worth to those around you.
Q: Who are the male role models you've had in your life?
A: "I am lucky to have a father who has always been involved in my life, who taught me to respect others, be kind and generous and to always go the extra mile without expecting anything in return. I was also in school residences for more than 10 years during my teenage years and numerous teachers were my role models throughout that time."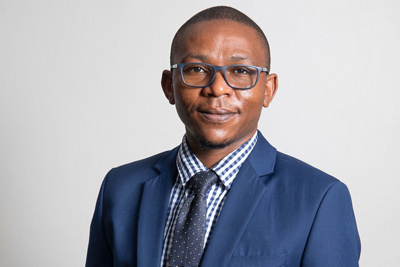 "Teamwork Is The Most Underrated Value"
Morris Pama
Patient Experience Manager, Mediclinic Durbanville
Morris joined Mediclinic in 2013 as a clerk in the emergency unit and has forged a successful career, rising through the ranks to the position he holds today.
The job title says "patient experience manager" but Morris sees himself as security – safeguarding patients by making sure that all systems and staff in the hospital are geared towards them. "We need to understand that people have emotions and they're scared when they come to us," he says.
Covid-19 heralded a particularly scary time. "It was tough. It's still tough," says Morris, his voice a little huskier than before. "We couldn't allow our patients to be seen by their family members and they had to rely on a video call…. I'm a believer that families should be in contact with their loved ones. We had to put measures in place and find ways to connect them in another way."
It was hard on the team, too. "I've never seen a nurse against a wall, crying, saying, 'Morris, I just want this thing to stop because I can't come to work to tell another family member, sorry your loved one has died'," he recalls. "And you know these are hard workers who've tried everything in their power to prevent death."    
But Morris is not one to dwell on the negative and he believes there have been some positives to come out of the pandemic, too. "It taught us to think on our feet, adapt quickly and find new ways to motivate each other." For him, it's hiking that restores his spirit. "If I'm in nature, I'm ok – that's how I get healed," he says.
Looking to the future, Morris would like to grow more in his role and help even more people as he continues making Mediclinic a place where patients can feel at ease and cared for.
Parting Wisdom
Q: How can men make the world a better place?
A: "Men need to be kinder to themselves so that they can be the brother, father, son and husband who is needed. I think men are angry because we have no choice – society is looking for a prescribed idea of what men should be and the tasks that we need to fulfil. We have to start understanding that we have a choice."
Q: What is your message to other men?
A: "Do you – be yourself. Cry if you need to cry, scream if you need to scream, be happy if you're happy. Be genuine. Also, you don't have to make a baby to be a father – you can still be something to somebody else."  
Q: Who are the male role models you've had in your life?

A: "I grew up without a father so I've always found my own way. I thought I had it all figured out; that I was an adult and could do things on my own. But when I was 30, I met a gentleman who was my landlord and he became a father to me. He taught me the ways of life and shared stories of his own upbringing. He was not shy to reprimand me like he would his own kid. He coached me in my finances, my love life and every aspect of my life. Since then, he has become the person I can count on, the father I never had, and I'm forever grateful that our paths crossed. I had never felt the influence of a father on my life and for me to feel that was really amazing."
"I Didn't Think I'd Work Again"
Sebinio Theunissen
Receptionist, Corporate Office
Six years ago, Sebinio was a singer and guitarist in a rock band, when an accident left him wheelchair bound and unable to play the guitar. The life he knew was over. Then, three years ago, he was given the opportunity to join a new internship programme that Mediclinic was launching. "I come from the exact opposite world to corporate," says Sebinio. "I've picked up skills I never thought I'd be able to do and to learn. I thought the disability had taken those opportunities away. And when I started here, I realised, I can do this! I'm very blessed to be sitting here."
After completing the one-year internship, Sebinio applied for a job in reception at the corporate office – where he's been working for the past two years. It also happens to be the first full-time employment Sebinio has ever had. "The accident was actually a blessing in disguise," he reflects. "It came with a lot of sadness and frustration. My life was changed forever and for a time, I lost hope.
But I learnt a lot. Ironically, I actually became more independent and I grew up a lot."
Working in reception has been its own learning curve – a natural introvert, Sebinio has had to come out of his shell and learn to engage with different personalities. It's made him more confident – not only at work, but in life. Now, he's starting to think about the future and growing his career with the company, perhaps moving into IT.
As for music, Sebinio has recently become one of the first people in the world to try a new guitar developed for quadriplegics. It means learning to play all over again, but that has not dampened his excitement. "I came from a difficult past and music was what saved me, in a sense, so to be able to play again is liberating, freeing. It's just brilliant," he says.
Parting Wisdom
Q: How can men make the world a better place?
A: "Men have a role to play in the world as fathers and brothers and to lead by example whether they're in either of those roles. I personally tend to think in a feminist light and, in that regard, our role should be the caretakers and protectors of our women and children rather than oppressors of them. And to lead our brothers and sons to do just that from this generation and to the next."
Q: What is your message to other men?
A: "My message to the men of Mediclinic: Stand strong for those who cannot stand, show chivalry, strength, courage, kindness and the reassurance of a father and brother to both patients and colleagues – whether a porter, doctor or switchboard operator. Be a man Mediclinic can be proud to call our own and continue to uphold one of our company's most important values: Trust and Mutual Respect."
Q: Who are the male role models you've had in your life?
A: "My role model as a teenager – and still now – is Kurt Cobain. Apart from him being a huge musical influence for me, also for his view on gender equality and sexism, among other subjects. He stood strong for the rights of women in the late 80s and early 90s when those rights were poorly recognised and to me that is what should be the base of being a real man – to respect women and to realise this was never a man's world but a woman's!"