In honour of International Men's Day on 19 November, we shine a light on four inspiring employees who contribute towards Mediclinic's reputation as an inclusive, world-class company. These dynamic men focus on making a difference in their communities and paying it forward.

Meshach Naidu
Hospital General Manager, Mediclinic Pietermaritzburg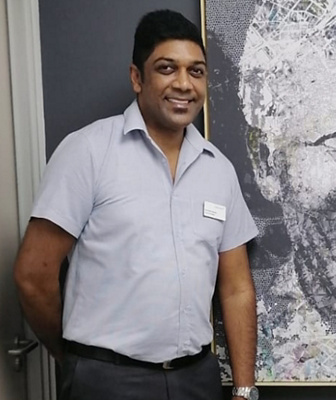 "Transformational leadership entails an authentic, motivational style of management and real empathy."
My professional journey started as an ICU-trained professional nurse working in the highly specialised field of neurovascular nursing. Nursing is an amazing career path. If you study further and make sacrifices many opportunities exist in clinical specialisation management, and academia.
I later embarked on a Master of Business Administration (MBA) specialising in healthcare management; my dissertation focused on transformational leadership.
In my opinion, you need to be visible and approachable as a manager and genuinely interested in staff issues. You must also surround yourself with the right people; you can't have square pegs for round holes. Transformational leadership means being democratic and participative and listening to staff, while also being prepared to be autocratic in emergency or disaster situations.
In 2018, I was approached by a talent acquisition specialist to apply for the position of Deputy Nursing Manager of the specialised units at Mediclinic Pietermaritzburg and was successful. Three years later I was promoted to Nursing Manager of the hospital and in June 2022 I became Regional Clinical Manager for the Central Region.
In October this year, I moved into the position of Hospital General Manager at Mediclinic Pietermaritzburg.
One of my responsibilities is to  offer safe, cost-effective, quality patient care in a cost effective manner. This has meant building a cohesive team and ensuring the right managers are in the right departments. It also entails identifying key talent and giving opportunities for promotion where appropriate. It's about building a talent pool, harnessing that energy and growing the teams entrusted to us.
There's a shortage of skilled nursing staff due to the ongoing brain drain, so we work towards creating a pleasant working environment where our staff are happy while working their shifts. Our employee opinions count and are valued – and we strive to praise publicly and criticise privately.
I'm a firm believer that nurses care and want to make a significant difference in the hospital and community. Transformational leadership requires an authentic, motivational style of management and real empathy. You get greater performance from employees by inspiring them, boosting their self-confidence, and encouraging them to achieve set goals.
I currently represent Nursing on the Transformation and Diversity project team and drive the message that to be an employer of choice we must welcome all races, cultures, ethnic groups, sexual orientations, and ages. In the healthcare setting we treat patients of all nationalities, religions, and cultures and we need a mix of cultures and races in our teams too. To overcome language barriers, we must turn negatives into positives by being willing to learn. We need to make significant inroads to embrace that objective – we're doing a wealth of things towards that. It's going well and we have wonderful success stories of balanced, representative teams and people growing within the company.
I feel moved by the words of former President Nelson Mandela: "Everyone can rise above their circumstances and achieve success if they are dedicated to and passionate about what they do."
Renaldo Adams
Patient Experience Operations Specialist, Mediclinic Southern Africa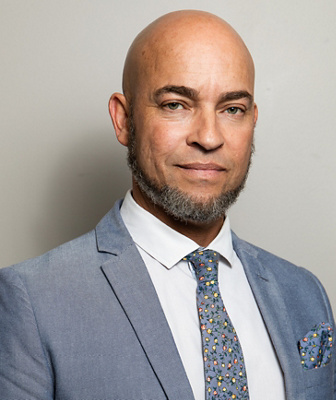 "Respecting other's different backgrounds, outlooks and life experiences – and loving those differences – builds tolerance and enables us to deliver expertise you can trust."
I grew up in Butterworth, Transkei, and learned to speak fluent isiXhosa from my neighbours, friends, and shopkeepers. There is a very powerful Xhosa saying: "A person is a person through people" – and this is how I conduct myself at home and at work. Creating meaningful relationships with colleagues comes naturally to me, as I get my energy from other people. I learn about the human condition, and I see myself through others. I believe I need to surround myself with people in order to grow.
When I landed my first job with the company at Mediclinic Cape Town as Client Services Manager, I had no knowledge of the industry and had to hit the ground running. Learning about the way Mediclinic operates really resonated with me and I found authentic hallmarks of integrity, respect and inclusion. I try to apply these values in my working and private life. Respecting different backgrounds, outlooks and life experiences – and loving those differences – builds tolerance and enables us to deliver expertise you can trust.
I'm also committed to making a difference in the wider community, and we partner with various NGOs and organisations to do that. We've collected sanitary pads to alleviate period poverty in disadvantaged schools and donated toiletries to underprivileged teenage boys.
Small things can make a massive difference – and adolescents who were bullied and ostracised now feel more self-confident and empowered.
My role has changed over the years. In my previous position as Patient Experience Manager at Mediclinic Constantiaberg, I conducted daily ward rounds and engaged with our patients. I try to instil compassion and kindness in everything I do, reminding myself that our patients are often in pain, anxious, confused, or frustrated. My one goal is to make them happier and see them smiling when they leave. 
When you have a genuine passion for people, any challenge is that much easier. It is an opportunity to prove you can rise above any difficulties. Finding solutions entails genuinely listening to people – and being accountable for your actions. I had a close relationship with our Unit Managers and Nursing Manager and always collaborated with them. Together, we unpacked and interrogated the Patient Experience Scores and put measures in place to correct things where necessary. I believe patient feedback is a gift from our patients, telling us what we can do better. 
I recently moved into the position of Patient Experience Operations Specialist for Mediclinic Southern Africa and look forward to continuing my relationship with our patients and our employees.
Karabo Maseko
Doctor Relationship Manager, Mediclinic Limpopo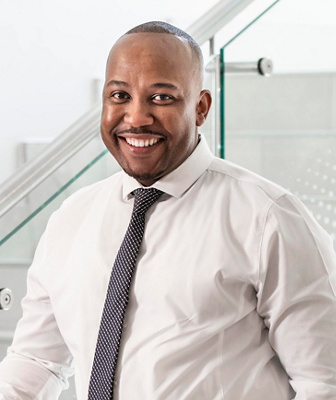 "There is a humanity here you don't always see elsewhere. People are respectful of each other and there is no superiority from the doctors."
I come from humble beginnings. My mother and I sold furniture spray to pay my university registration fees. I completed my undergraduate degree in Corporate Communication and my post-graduate degree in Public Management and Governance. I am also involved in musical theatre and commercial acting work. My real passion for healthcare was ignited after being mugged on my way to class at night. I was admitted to a nearby hospital where I was horrified by the lack of care. I vowed to myself that I would live a purposeful life helping people and making an impact in the healthcare field.
I left Gauteng in November 2021 to assume my current position and I'm truly grateful to have been given the opportunity to be in this beautiful province. Jo'burg is fast paced, with crime and traffic, while Limpopo is quiet, with natural beauty, resorts, game reserves, Sunday buffets and the chance to drive with your windows down!  
My broad portfolio means I'm responsible for doctor recruitment and I deal with everything from assistance with equipment requests to queries and complaints. I am the mouthpiece between our Hospital General Manager and the doctors. And I use my intuition and initiative to attract new specialists to Mediclinic Limpopo.
Our doctors treat patients from Polokwane, surrounding communities and rural villages, often servicing people from their home villages. The mentality and outlook are unique. There is a humanity here you don't always see elsewhere. People are respectful of each other and there is no superiority from the doctors. We talk after hours; we really relate with each other. They genuinely want to take the time needed to put their patients first – it's not just about money.
I accompany our specialists to meet GPs in the area so when a patient needs a referral, they know who to call. That relationship is critical, and I'm honoured to facilitate it. Having specialists and subspecialists at our hospital means patients don't have to go to Pretoria for treatment, which reduces travel costs, time and stress – and improves patient outcomes.
Mediclinic Limpopo has a strong culture of openness and transparency. Everyone has an open-door policy, and we stay connected; we are a cohesive force, and we resolve conflict in a human way. I have a wonderful manager who I learn a lot from every day. 
And we don't just make a difference within the hospital walls. I take doctors, physiotherapists and other health workers to surrounding village schools for careers day to explain the different specialities that exist in the healthcare field. These youngsters are otherwise not exposed to this information, and it encourages them to be inquisitive about the field of medicine as a career. For Oral Health Month, we take our dentists out into the community to teach youngsters about the importance of oral care. We've also adopted a school that caters for autistic children and often spend the day with them, cutting hair and talking and offering support.
I love it here. My partner lives in Midrand and our two children live with their grandparents – one in Alberton and one in Springs. We commute successfully and it's working well.
Werner Vermaak
Digital Marketing Manager, Mediclinic Southern Africa
"I still speak my mind, but I'm much calmer. I've changed my thought processes and I'm more measured in my approach."
In 2008, while on duty as an ER24 medic, I was seriously injured while pulling over to assist at a motor vehicle accident. An approaching car hit my vehicle from behind, causing it to overturn several times before landing in oncoming traffic. I sustained chest, back and head injuries and was hospitalised.
I was off duty for three months to recover and suffered from post-traumatic stress triggered by the accident. In hindsight it was the best thing that ever happened to me. It forced me to re-evaluate my life and I have changed as a person. I had never been aggressive before the accident, but I did have a short fuse. I made a considered choice to change my outlook and behaviour – and to this day I still surprise myself. I still speak my mind, but I'm much calmer. I've changed my thought processes and I'm more measured in my approach.
My relationships with others also improved. For example, a colleague and I had never seen eye to eye. After the accident, he was one of the first people to reach out. He guided and coached me through my recovery, as he'd been through a similar experience. We are now close friends and I'm godfather to his two children.
Today, I have a tattoo on my back that reads "Pay it Forward" if seen in a mirror. It's my motto in life – to do something without expecting anything in return. As a medic, you become aware of how vulnerable people are. We see them at their worst, but we don't judge because we are rendering a service. Even though we're total strangers, we treat everyone equally and with respect, without expecting anything in return. We leave something of ourselves behind in the way we behave during every call. It might be something small and insignificant, but it can have a huge impact.
My journey with ER24 and Mediclinic started in 2003 when I worked as an Ambulance Assistant in Jo'burg West. Twenty years ago, we didn't have social media, but as it grew, it stimulated my brain. We had an internal communications challenge at the branch; we often didn't know about new procedures and policies, and if we did, they were printed on a pin board, and many people didn't see it. Pertinent information needs to be timeous, but although we attempted regular branch meetings, someone was always unable to attend due to shift work or emergencies.
I investigated and experimented with how social media could offer a centralised message and in 2007 joined the ER24 Public Safety Office as spokesperson for the Northern Region. Three years later I applied for a new position as Corporate Communications Manager and grew the team to five people, with spokespeople across the country. We fully embraced the new technologies and developed podcasts and videos with relevant information for staff to consume in their own time.
When ER24's offices merged with Mediclinic Southern Africa, I had the opportunity to transfer to Cape Town where I took up my current position. I continue to foster a learning culture as nothing is black and white in the digital space. You're never too old to learn and I try to empower others when it comes to personal growth and education.
I truly believe everyone has a purpose. And I always say I'm glad I didn't die in that accident; I've still got too many people to irritate! It was a shake-up and a wake-up, but it could've been so much worse.