In recognition of International Day of Persons with Disabilities, three Mediclinic employees describe how they've risen to the challenge in an inclusive and respectful workplace.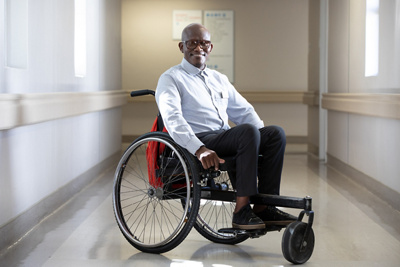 "Everyone here uses a person-first attitude."
Mlandeli Jordan
Scanner operator, Mediclinic Vergelegen
Mlandeli Jordan was one of the first candidates with a disability to be placed in Mediclinic by leading healthcare recruitment agency MHR. The father with paraplegia currently works as a scanner operator at Mediclinic Vergelegen. "People with disabilities face many challenges," he says. "These include physical barriers and limited transport options. But the biggest one is the human barrier – some people simply ignore those with disabilities. For instance, if I am at the bank with my 21-year-old son, the teller will talk to my son, not me. They don't realise there is nothing wrong with my mind just because I am in a wheelchair."
Mlandeli admits it took a great deal of strength to recover after being shot in the back by robbers at a taxi rank. "I spent three months in hospital and a year in a rehabilitation facility," he recalls. "I was only 25 years old, and I was totally lost. I had no dreams, no ambitions for the future. My son was only three years old at the time, and after two years of feeling sorry for myself, I realised I couldn't depend on my brothers for the rest of my life. I knew I needed to provide for my son, so I stopped drinking and started looking around for help." After becoming involved with the QuadPara Association of South Africa (QASA), Mlandeli entered its work-readiness programme and is now fully employed.
"Unlike other companies where I have worked, Mediclinic is very inclusive," he says.  "Everyone here uses a person-first attitude, they don't see a disabled person in a wheelchair. Mediclinic genuinely cares about its staff – no one here sees me as different."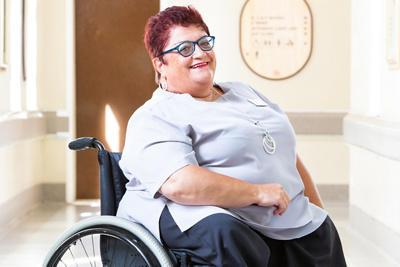 "Mediclinic is a forward-thinking, inclusive company."
Christine Taylor
Hospital General Manager, Mediclinic Durbanville
Christine Taylor, Hospital General Manager at Mediclinic Durbanville concurs. "I started as an administration manager at Mediclinic Panorama more than 20 years ago, and in my experience, Mediclinic is a forward-thinking, inclusive company. From having a lift installed so I could access my office on the first floor, to having designated parking outside the front door, I've always felt accommodated. I've also been given the opportunity to complete many personal growth and development courses for which I'm grateful."
Christine contracted polio when she was three years old and has been in a wheelchair her whole life. "I don't ever want anybody to pity me," she says. "I only want to be acknowledged for how well I do my job. One can't deny the role some disabled people play in the perception that they are incapable – they ride on their disability. I just want to be seen as another person – not another person in a wheelchair."
When she first joined Mediclinic over 20 years ago, Christine says she was one of very few disabled employees. "It was a little extraordinary," she recalls. "I was at a conference where the facilitator assumed I was a switchboard secretary, instead of management – simply because I was in a wheelchair. But as more people with disabilities joined the company, the culture has changed. We still have a way to go, but that stereotyping no longer exists."
Christine says she is wholly aligned with the Mediclinic values of mutual trust and respect.  "My advice to disabled employees is the same as I'd give able-bodied employees: Don't take anything for granted, don't have an attitude of entitlement, and don't insist on privileges if you happen to be disabled. Add value to the company as anyone else would. If you take responsibility for your own growth and development there is a bright future for you at Mediclinic."
"Some colleagues even act as my ears."
Che Gething
Unit Manager of the Emergency Centre, Mediclinic Brits
For Che Gething, Unit Manager of the Emergency Centre at Mediclinic Brits, joining the hospital group meant joining a family. "It's a privilege to work for a company that has accepted me for who I am," she says. "Mediclinic has helped me achieve my personal goals and the goals of my unit."
Although Che was born with normal hearing, she suffers from otosclerosis (abnormal bone growth in the middle ear that causes hearing loss) and became deaf at age 24. "I was devastated because I thought I'd have to give up my nursing career," she says. "But then I made a mind shift. This journey has been full of challenges, tears, setbacks and feelings of despair but I've come a long way. I am proud of the person I've become in the silent world."  
When Che started working at Mediclinic six years ago, the human resources business partner and medical aid scheme motivated for her to receive a highly specialised, smart hearing aid. "I can now fulfil my daily tasks more easily as I can hear background noises, receive calls on my cellphone and interact more easily with patients," she says. However, the single mother of two boys still relies heavily on being able to lip read. "I am very grateful to each staff member who makes the effort to look at me when communicating," she says. "Some colleagues even act as my ears when I attend meetings or training sessions where I am not able to lip read."
When the pandemic started, however, mask-wearing became a huge challenge for her. "The stress of not being able to see people's lips moving has left me –  and other deaf people ­– in turmoil. But even though I miss a lot of nuances and get exhausted, I will never give up. I'm more aware of what goes on around me, as I listen with my eyes. I am very sensitive to people's body language and use this positively in the management of my team."
The trauma-trained nurse adds that she loves working with any deaf or hearing-impaired patients or staff members. "The bond we share is profound and difficult to explain," she says. "In our ICU ward, when patients are intubated and cannot talk, I can lip read and communicate for them. Thank you Mediclinic for encouraging me to be part of your hearing world."