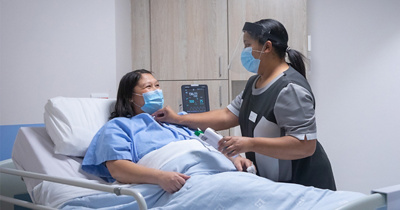 Mediclinic now offers a number facilities in various parts of South Africa that focus exclusively on same day surgery. Concentrating only on minor surgical procedures these facilities are designed to be particularly streamlined, efficient as well as cost-effective, without compromising on the high clinical standards of the main hospital.
Day clinics reduce the pressure on the main hospitals, where many are co-located to full acute facilities, while still offering the strict screening protocols to further ensure patient safety.

It has been a challenging period while the country has fought the Corona virus, and Mediclinic understands that our community has put off essential surgical care in order to reduce the pressure on facilities. However, the various day clinics are now able to assist with these surgical needs and have taken extensive measures to ensure the safety of our patients, staff and doctors.
Elective surgery is safe and accessible with pre-screening

During this period, patients are tested before being admitted for their elective procedures, reducing the risk for all stakeholders. In addition, there is screening on admission and staff have all been equipped with the necessary PPE to ensure that they are able to safely care for their patients, whatever their surgical needs. All patients are also required to wear masks and maintain social distancing within the day clinic.
A key benefit of day clinics is that they provide the local communities with broader access to safe, stream-lined private medical care. Day case surgery refers to patients undergoing planned, non-emergency surgical procedures, with admission and discharge on the day of surgery. Examples of typical day surgery include ear, nose and throat surgery such as a tonsillectomy (removal of the tonsils) as well as facial and oral surgery, such as wisdom tooth extraction and dermatological procedures. Further examples of possible day procedures include general surgery, orthopaedic, ophthalmology and gynaecological cases.
Protocols in place

According to Dr Joggie Stander, a urologist who performs surgeries in Mediclinic Cape Gate Day Clinic, "Much has changed in the world in the past few months but one of the things that has not changed is the importance for patients to look after their health. Many patients have been apprehensive about seeking medical attention for longstanding problems, going for their regular follow-ups or even getting new symptoms checked out. I want to assure patients that now more than ever, they should be following up with their local General Practitioners and going for their regular Specialist appointments. This will help to prevent potential problems down the line if care was delayed."
He continues, "I want my patients to know that I am here for them and they do not need to be concerned as all Covid-19 protocols are followed in my rooms and the hospital. Staying healthy and getting the appropriate healthcare in these times is very important."
Designed for efficiency

Many of the day clinics offer a new cubicle design, enhancing flow and offering patients ample time for patients recovery privacy, before they are safely discharged. The cubicle design allows elements such as patient privacy for optimised patient privacy while at the same time improving ease of access for nurses and doctors involved in the care. The layout of the cubicles also offers nurses a full view of patients before and after surgery.
"Simplicity, speed and accessibility are the order of the day; patients will have the added advantage of knowing their exact date and time of admission, as well as expected theatre and discharge times. The client therefore experiences little or no waiting periods before and after surgery, because everything will be carefully pre-arranged. Coupled with the fact that services are offered in a friendly, non-threatening environment with well-trained staff, it can only ease the patient's stress levels while focusing on recovery," explains Carol Defty, Hospital General Manager Mediclinic Cape Gate.