Doctors appointments through video and over the phone are an exciting and important part of how we provide safe care for our patients.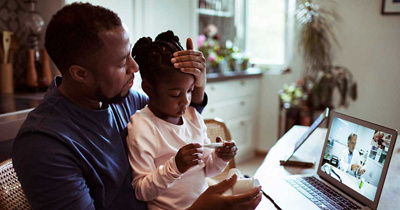 What is telehealth? Telehealth can encompass a broad range of virtual health technologies, one of which being the ability to provide video consultations to patients. Distant or remote consultations have become increasingly important due to the effects that COVID-19 has had on our communities.  

The Health Professions Council of South Africa (HPCSA) has recently clarified legislation around ways in which doctors may conduct remote consultation with patients using telephonic or virtual platforms of consultation – changing the way you see your doctor.
"You are still able to choose to see your doctor in person should you wish," says Dr Kim Smith, Clinical  Data and Information Manager who works in  health informatics at Mediclinic Southern Africa. "There will also be instances where virtual consultations are not appropriate and attending in person is safest. This is best discussed with your treating doctor."
But virtual consultations are useful for certain patients in specific circumstances, including those in self-isolation.
Read or download the infographic on how to make the most of a virtual consultation here.
"It is exciting to create this opportunity to receive care without making the trip to the doctor's office," says Dr Smith. "This way travel is saved if your doctor is located far away and time away from work or family responsibilities is kept to a minimum. And during the COVID-19 pandemic, telehealth also assists with efforts to maintain social distancing."

Telehealth was previously only permissible in circumstances where there was an already established practitioner-patient relationship, except for in cases that involve telepsychology and telepsychiatry. "At this time, doctors may consult with new patients online, but this may again evolve once the COVID-19 pandemic has settled," says Dr Smith.
It is important to remember however, that a telehealth consultation is not an appropriate course of action in an emergency. If you need urgent emergency medical care, call ER24 on 084 124.
There are some parts of the consultation that will remain the same as if you were being treated in person. Confidentiality of the information and assessment will always be respected. If your doctor is in doubt whether a telehealth consultation will be best for you, he or she should advise you to come in for a face-to-face consultation or to seek assistance at a healthcare facility closest to you.
Your doctor may also charge a fee for these services. "Please confirm the payment details with your treating doctor before the consultation takes place. Some medical aids may cover costs, others may not depending on the benefit structure and available benefits at the time of the consultation."
Telehealth is an opportunity for patients and doctors to adapt to our new normal while putting safety top of mind, says Dr Smith. "This process is not changing the who, but rather the when, where and how of care delivery."