Mediclinic Southern Africa places importance on preventing mental ill-health in the workplace and supporting its employees in maintaining emotional and psychological wellness.
Mediclinic's employees are its greatest asset and must be equipped to deal with stressors, says Dr Ziyaad Essop, Corporate Health and Wellness Manager at Mediclinic Southern Africa.
"Having a good, positive state of mind allows people to make accurate decisions and adapt to changes within the industry," he explains. "We work in a high-risk environment and patient safety is a core value in our business. This is why we emphasise emotional and mental health as a well-defined, standalone pillar within our broader corporate health and wellbeing strategy."
Two years ago, Lillian Ramsden, a care worker at Mediclinic Upington, was struggling with profound clinical depression. "I couldn't work, I couldn't do anything, I didn't care about anyone," she recalls. "I was in an abusive relationship, and I just wanted to die." Fortunately, Lillian was able to confide in her unit manager that she needed help. "I was able to access the Employee Assistance Programme and the social workers at Incon Health explained that I was burnt out.
"They arranged for me to spend three weeks at a private mental health clinic in Cape Town, where I received extensive therapy and medication. Today I am positive about life – and very thankful to Mediclinic for the support."
"It's a two-way street," Dr Essop adds. "We can offer programmes and services, but employees need to access them to receive the necessary support. The real value lies in implementing what they've learnt through the coping skills and assessment tools."
Lillian now makes a point of sharing her story with others who might be struggling. "Many people are ashamed to ask for help," she says. "But at Mediclinic there's a lot of support available."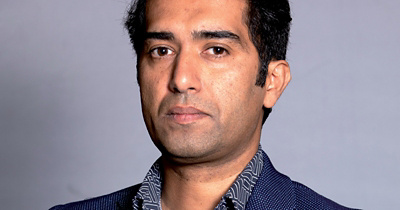 Having a good state of mind allows people to make accurate decisions and adapt to changes within the industry.
– Dr Ziyaad Essop
Dr Essop says Mediclinic Southern Africa is also engaging leadership and obtaining its support, and familiarising the Executive Com- mittee with the impact of mental health issues. "We want to encourage senior leadership to champion and promote shared awareness and understanding of mental health," he explains. "We've also formalised mental health as a topic to be discussed at every Employment Equity,
Skills Development and Employee Wellbeing Committee meeting." Mediclinic is also establishing strategic partnerships to highlight mental health and its impact in the workplace, such as the Crazy Socks for Docs awareness events.
An app containing information, self-assessments, exercises, and video is also being trialled. Lillian is grateful for Mediclinic's support: "I could have lost my job due to mental illness; instead they gave me a new life."
Mediclinic Mental Health Services
A key strategic goal is to ensure Mediclinic is improving access points to the right care in all areas of a patient's engagement. We operate five dedicated mental health units to ensure our patients' emotional wellness needs are fully supported once their physical needs are met.
In addition to the existing units located in Welkom, George and Newcastle, Mediclinic recently bought two independent facilities: Mediclinic Denmar Mental Health Services (formerly Denmar Specialist Psychiatric Hospital) in Pretoria, and Mediclinic Crescent Mental Health Services (formerly Crescent Clinic) in Cape Town.
Smaller in-hospital care options also exist within some of the acute facilities.
Ongoing staff wellness support
"I've seen first-hand how our wellness initiatives have affected our nursing staff in a positive way. While preparing to manage the COVID-19 pandemic, Mediclinic developed a tool to assess the emotional status of staff daily. Staff were also reminded of the existing wellness programmes. As the pandemic progressed, they increasingly accessed the wellness programmes, and encouraged each other to seek professional help where needed.
Employee initiatives
Mediclinic employees can make use of a wide range of mental health initiatives and support, such as:
Access to social workers via Incon Health, either at the workplace or via a dedicated call line.
Continuously updated online content on the Wellness Hub accessed via MyChat, the employee app. Staff can familiarise themselves with common mental health conditions, learn to self-identify emotional issues, and read useful case studies.
User-friendly tools, such as the mental health barometer, dedicated health and wellbeing courses via LinkedIn learning, and self-checks that support individuals, line managers and teams in helping themselves and others.
Follow-ups, check-ins and personalised help
"We want to encourage senior leadership to champion and promote shared awareness and understanding of mental health."
– Dr Ziyaad Essop
Help on a broader scale
ER24 offers weekly outreach counselling to previously disadvantaged school children in Cape Town (Chris Hani Secondary School in Khayelitsha); KwaZulu-Natal (Haythorne Secondary School in Pietermaritzburg, and Sandfields Primary in Ethekwini). Plans are also in place to extend this to Gauteng (Olivenhoutbosch Secondary School in Diepsloot). In addition, ER24 runs drug programmes and rehabilitation sessions, and offers pregnancy tests.
"Some of the trauma cases we deal with are high impact, including rape, murder, armed assaults, drug abuse, bullying and gender- based violence. We also deal with neglect, abuse, natural disasters, violence, accidents, life-threatening illnesses in the family, gang- related experiences and other social issues.
"We offer a safe space and focus on assisting emotionally injured youngsters back into mainstream society." ER24 counsellors also assist the broader communities surrounding the schools. "We aim to involve parents, teachers and social workers where possible to show them how to provide the necessary support to help traumatised children."
– Adriaan Grobler, National Trauma Co-ordinator ER24
Extract from the Transformation Publication 2023