Doctors are individuals who dedicate themselves to saving lives. As Newcastle develops and grows, so does the medical sector within the town.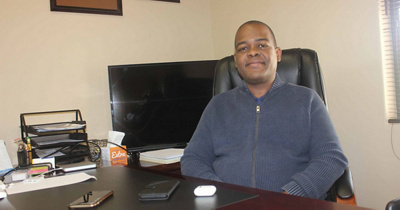 For far too long, Newcastillians were required to travel to Durban or Johannesburg for a neurosurgeon's assistance. But this is no longer the case, with Dr Nte Mjoli joining the ranks of Mediclinic's ranks of highly trained specialists.
A neurosurgeon is a physician who specializes in the diagnosis and surgical treatment of disorders of the central and peripheral nervous system including congenital anomalies, trauma, tumours, vascular disorders, infections of the brain or spine, stroke, or degenerative diseases of the spine.
As a highly skilled physician, Dr Mjoli's journey into the medical profession began when he was a young child.
"I was asthmatic, and I remember as a child, I wanted to become a doctor, so I could help others, the way my doctors assisted me. My parents actually took me to visit several doctors for advice on my future," he smiles.
Upon finishing his schooling career in Ulundi, Dr Mjoli joined the University of Natal, before qualifying as a doctor in 2002.
"I did my internship at Addington Hospital, before doing my community service at the Mahatma Gandhi Memorial Hospital."
From there, Dr Mjoli moved onto Nkonjeni, near Ulundi, before joining EMRS as one of its principals.
During this time, Dr Mjoli's Head of Department had a conversation with him, regarding the shortage of neurosurgeons.
"He said there was a shortage of neurosurgeons and he wanted me to consider becoming one. With the opportunity arriving and his faith in me, I started my studies in neurosurgery in 2007 and qualified in 2012."
During this time, he worked at Inkosi Albert Luthuli Central Hospital, as well as Groote Schuur Hospital and Steve Biko Hospital, before establishing his private practice.
Amassing vast knowledge in his profession, Dr Mjoli says neurosurgery is exceptionally rewarding.
"There is nothing more rewarding than being able to resolve an issue. Whether it is seeing a rugby player being able to return to playing rugby or a truck driver being able to return to work. Then there are medical issues such as tumours, being able to assist someone with immense pain and being able to improve their quality of life."
Now based in Newcastle, what brings a qualified neurosurgeon to Newcastle and the Mediclinic Newcastle team?
"I have always wanted to return to the Zululand area. As a child, I had to travel a lot for treatment and my parents needed to find accommodation when we travelled to Durban. Therefore, I thought, why not bring my services closer to the community."
Furthermore, he adds Mediclinic Newcastle has the infrastructure and the necessary specialists on-hand.
"Neurosurgeons cannot operate alone, and everything is here for me to help improve people's quality of life."
Dedicated to quality of life, Dr Mjoli is also a vegan. A lifestyle which he adopted in January 2019.
"I was bothered at the amount of meat I was eating during the day, which would be at least three times a day," he says.
After extensive research, he adopted the veganism lifestyle. "With farming seeing large amounts of antibiotics and steroids going into our foods, along with the role cow farming has on global warming, I decided to become a vegan in order to lead a healthier lifestyle."
Explaining how research shows the benefit of eating a diet consisting of vegetables and fruits leads to a healthier and longer life, Dr Mjoli says he does not regret his decision at all.
"I will still go to braais, but I don't touch meat at all," he laughs.
As a doctor set on giving people quality of life, Mediclinic Newcastle and the Newcastillian welcomes Dr Mjoli to town. His work will surely add to the quality of Newcastle's medical industry.  
Newcastillians can contact Dr Mjoli at his practice, Suite 21, Hospital Street Office Park, on 064 526 0193.
Source: https://newcastillian.co.za/2020/03/03/mediclinic-newcastle-welcomes-dr-nte-mjoli-newcastles-newest-neurosurgeon/