Drs Brink, van der Westhuizen and Associates has been delivering 24 hour quality medical care to the Durbanville and surrounding communities for more than 25 years.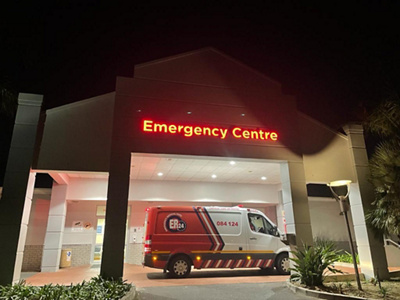 The clinical team consists of 7 full-time doctors who are dedicated to and passionate about Emergency Medicine and are extensively trained with broad experience. They are assisted by a team of well trained nursing staff and specialists in all fields for the referral of patients. It is important for an Emergency Medicine doctor to be comfortable in the management of all of the most serious aspects of the various divisions of medicine. If you experience any sudden health emergency the doctors in the Emergency Centre are always available to assist
Our service standard:
We aspire to provide assistance as quickly as possible.
Due to the varied nature of emergencies, it is sometimes difficult to accommodate patients simultaneously. 
Our triage system allows for prioritising emergency patients based on clinical urgency, rather than order of arrival. 
This serves to facilitate timeous medical treatment, reduced waiting times and improved patient flow, all with the objective of ensuring the best possible outcome for emergency patients. 
It is important to note that medical support will be available to patients during the waiting period. 
 Our facilities:
9 Open-plan Consulting areas with a paediatric corner
2 additional private Consulting rooms
A 2-bed resuscitation room
Dedicated area for minor procedures
A 2-bed observation room and Paediatric Isolation room
Stabilisation for stroke patients, with members of the multidisciplinary stroke service on 24-hour call
24-hour access to digital radiology network  for CT,  and MRI scans,  as well as x-rays
Drs Brink, van der Westhuizen and Associates are ready to manage patients of all ages with injuries, from minor to serious motor vehicle accidents, surgical emergencies or medical problems from minor illnesses to acute strokes and heart attacks. Various international protocols (such as Mediclinic's Stroke Project) are in place to ensure world-class management.
Our team of emergency doctors and nurses is available 24 hours a day, 365 days a year to assist you and your family with any medical emergencies that may arise.