Mediclinic Durbanville celebrates the arrival of the new and improved Da Vinci X robotic surgical system, offering minimally invasive surgeries with minimal scarring for patients to generally have a quick recovery time.
While patients of Mediclinic Durbanville have benefitted from the previous generation DaVinci System for nearly a decade, patients across the Cape Town northern suburbs will now enjoy additional benefits of the DaVinci X.
The DaVinci robot has predominantly been used for minimally invasive surgery performed on patients with prostate cancer. Successful minimally invasive pelvic floor surgery, colorectal surgery and surgery on cancerous kidneys have also been performed on the robotic system at Mediclinic Durbanville over the last nine years. The new robotic system offers various advancements such as arms with greater reach and a wider range of motion. This enables the surgeon to perform quicker and more accurate surgery. "We are excited by the possibilities the new system offers, particularly in terms of new procedures that are now enabled. One example of a new procedure is robot assisted cystectomies where cancer of the bladder is removed," explains Johan Stadler, Hospital General Manager for Mediclinic Durbanville.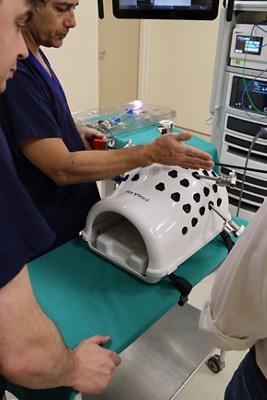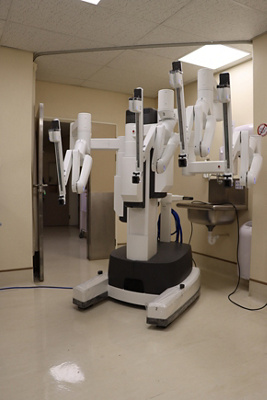 With more than 200 surgeries scheduled on the current DaVinci system each year, Dr Gawie Bruwer, Urologist at Mediclinic Durbanville regularly performs prostatectomies alongside other urological procedures. With the help of the new system he will now be able to perform robot assisted cystectomies with notably improved ease and accuracy, offering patients less scarring and post-operative pain, as well as reduced blood loss and shorter hospital stay.
"In addition to the supplementary surgeries possible, we are pleased that the new system offers a better surgical experience for our patients. It also reduces the need to reposition patients during surgery and it provides greater visibility during surgery," adds Dr Gawie Bruwer.
Dr Farzana Cassim, Urogynaecologist at Mediclinic Panorama also makes use of the robotic system for some of her surgeries. "Robot-assisted surgery has transformed urogynaecology, making operative times much shorter. The blood loss during surgery is less, and patients will generally be discharged a day after the operation, compared to staying in hospital for up to five days for an open hysterectomy and a sacrocolpopexy (procedure to treat a pelvic organ prolapse), for example."
Robot assisted surgery ensures that patients experience smaller incisions and reduced tissue manipulation, which leads to less post-operative pain and discomfort. Smaller incisions and minimal scarring can lead to improved cosmetic results. Patients typically experience a shorter recovery period and return to normal activities far more quickly compared to traditional surgery.
Mediclinic looks forward to serving the broader community across the Northern Suburbs, and is proud of the working relationship built with a number of surgeons accredited on the DaVinci robotic system.
Issued by:
Mediclinic Southern Africa
Nokuzola Plaatjie: Corporate Communication Manager
Email: media@mediclinic.co.za
Tel: 021 809 6500