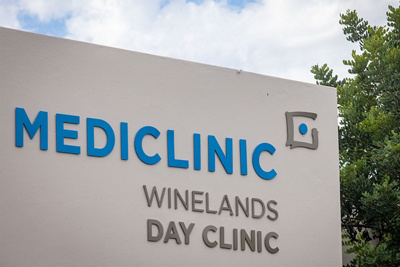 Mediclinic Winelands Day Clinic will begin operations on 14 June 2021. This will be Mediclinic Southern Africa's ninth clinic focusing exclusively on same day surgery. The day clinic will have a core focus on orthopaedic or rheumatology related procedures, enabling the facility to be particularly streamlined, efficient as well as cost-effective, without compromising on the high clinical standards of the main hospital.
"We are excited to open the much awaited day clinic for our community. Our specialist services within the field of orthopaedics and rheumatology are now more easily accessible, and it removes the pressure on our main theatre facilities. Mediclinic Winelands Day Clinic is now ready to assist with these surgical needs and has taken extensive measures to ensure the safety of our patients, staff and doctors," explains Willie Kruger Mediclinic Southern Africa Operations Executive: Western Cape Inland Region.
The ongoing partnership between the hospital and the Institute of Orthopaedics and Rheumatology (IOR) will continue, with the focus on innovative surgery, as well as training to extend skills and knowledge within the field of orthopaedics and rheumatology.
According to Carol van Zyl, Hospital General Manager of Mediclinic Winelands Orthopaedic Hospital, "The day clinic will require testing of patients before surgery to limit risk. Our staff have all been equipped with the necessary PPE to ensure that we are able to safely care for all our patients, whatever their medical needs. All patients are also required to wear masks and maintain social distancing within the day clinic."
"We truly believe that this day clinic will provide the Stellenbosch and broader Cape community with greater access to safe, stream-lined private orthopaedic care," continues Van Zyl. "Day case surgery refers to patients undergoing planned, non-emergency orthopaedic procedures that are admitted and discharged on the day of surgery." Examples of typical day surgery within this facility would include wrist or hand surgery such as small-joint replacements, foot surgery, pain relief therapy as well as arthroscopies for diagnostic or repair purposes. Rheumatology patients will also benefit from infusions that can be delivered within the day clinic environment.
Dr Ajmal Ikram, an orthopaedic surgeon specialising in hand and wrist surgery, in practice at both the day clinic and main hospital, is keen to start admitting patients, "For my practice, the day clinic offers the ideal environment for minimally invasive hand surgery operations, small hand joint replacements or wrist arthroscopies." For such procedures, same day discharge makes it an ideal choice. Even specialised surgery for a partial nerve repair in the upper limb and hand sports injuries can be managed within the streamlined day clinic environment.
Dr Dawid Burger, an orthopaedic surgeon specialising in foot and ankle surgery, will also be performing surgeries in Mediclinic Winelands Orthopaedic Day Clinic. "Much has changed in the world in recent times but one of the things that has not changed is the importance for patients looking after their health. Many patients have been apprehensive about seeking medical attention for longstanding problems, going for their regular follow-ups or even getting new symptoms checked out. I want to assure patients that it remains important that they are following up with their local General Practitioners and going for their regular Specialist appointments. This will help to prevent potential problems down the line if care is delayed."
Mediclinic Winelands Day Clinic will offer a fully equipped theatre that can also accommodate scopes or infusions. The internal flow of the day clinic is enhanced by the new cubicle design, which offers patients ample time for patients to recover in privacy, before they are safely discharged.
The day clinic, co-located on the premises of the Mediclinic Winelands Orthopaedic Hospital on the corner of Saffraan and Rokewood Avenue in Die Boord, will serve the broader Winelands and greater Cape Town community with specialised orthopaedic services.
Van Zyl explains that the services of the day clinic are based on the needs of the public. "Our unrelenting focus on patient care will continue within this day clinic where patients will receive the same quality care and expertise they are accustomed to from Mediclinic.
"As simple, speedy and easy access will be the order of the day, patients will have the added advantage of knowing their exact date and time of admission, as well as expected theatre and discharge times. The client therefore experiences little or no waiting periods before and after surgery, because everything will be carefully pre-arranged. Coupled with the fact that services are offered in a friendly, non-threatening environment with well-trained staff, it can only ease the patient's stress levels while focusing on recovery," she explains.
According to Mediclinic Southern Africa's Operations Manager: Day Clinics, Pieter Lotz, the day clinic will offer a convenient, efficient and lean-cost facility to patients, without compromising on quality healthcare. "Doctors will, for instance, still be involved in thorough pre-operative assessments to eliminate risks and complications for the patients during and after surgical or medical procedures," he assures.
For further information on Mediclinic Winelands Orthopaedic Day Clinic, please contact:
Carla Hanekom
Patient Experience Manager
Tel: 021 861 2160
E-mail: carla.hanekom@mediclinic.co.za
Carol van Zyl
Hospital General Manager – Mediclinic Winelands Orthopaedic Hospital
Tel: 021 861 2000
Email: carol.vanzyl@mediclinic.co.za
For media enquiries, please contact:
Tertia Kruger
Corporate Communication Manager, Mediclinic Southern Africa
Tel 012 809 6500
E-mail: tertia.kruger@mediclinic.co.za