Mediclinic Vergelegen will be hosting a Stroke Awareness event on 27 September 2019 and are inviting all members of the public to attend. In collaboration with ER24, Winelands Radiology, Pathcare and other key role players, the Mediclinic Vergelegen team will demonstrate the Stroke Pathway – a standardised clinical pathway that should be applied to ensure the best possible outcomes for anyone experiencing a stroke.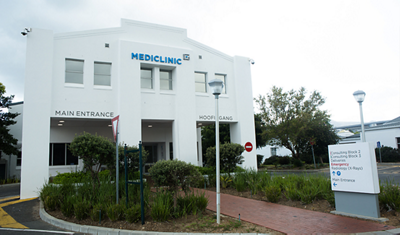 Mediclinic Vergelegen is proud to showcase the completed building project that was initiated after the damage the hospital experienced in 2013 when the Lourens River burst its banks, causing severe flooding. The hospital was forced to evacuate 127 patients, and volunteers of the Helderberg community immediately responded to assist the hospital staff in safely evacuating the patients. Following this dramatic event, Mediclinic Southern Africa invested heavily in expanding and relocating key areas of the hospital in order to avoid any such event in the future. The new buildings were carefully designed in order to deal with any possible future flooding.

The hospital proudly offers a new emergency centre and cardiac unit, which boasts a state of the art catheterisation laboratory (cath lab), cardiac theatre, cardiology and cardiothoracic critical care units, general cardiology unit and state-of-the-art hybrid theatre.

The benefits of the massive refurbishment at Mediclinic Vergelegen are clear to any visitor. Following five years of hard work, Mediclinic Vergelegen has successfully completed the building project and are keen to demonstrate the care and expertise available to the community. We are proud to invite the community to attend the demonstration as well as our free health screenings including blood pressure, glucose and cholesterol testing.