Courtesy officer helps to deliver baby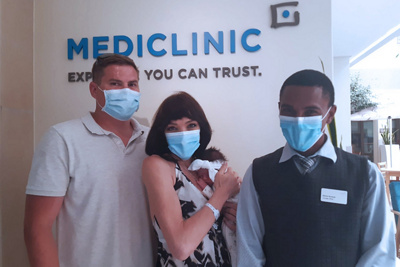 For Pauline van der Merwe, a pregnant mom from Durbanville, Tuesday, 3 November was just a normal morning. Like every day, she did her early morning exercise routine. A sudden pain that seemed like a stomach pain was concerning her – not too much though, as baby was due in 10 days.
Pauline went about her morning routine and realised that the pain had moved to her lower back and gained rhythm. She heard a 'pop' sound and called her gynaecologist, Dr JP du Buisson at Mediclinic Panorama, while she and her husband decided it is time to go to hospital. The time was 07h59.
Pauline explains that she was in labour for 30 hours with their first born, little Franco.
"Your head leaves you and your body takes control," is how Pauline describes the experience. Everything happened so fast. Pauline and Kobus drove to the hospital through rush hour traffic (08H00) with dad dodging the other cars on the N1. 
Enrico Booyse, the courtesy officer at Mediclinic Panorama, acted swiftly after he was alerted that the patient needed help in the drop-off zone outside the hospital. Within seconds Pauline was placed in a wheelchair and they were on their way to the labour ward. It was a team effort as some staff members held doors open and made way in the passages, while Enrico rushed Pauline up to the door of the labour ward. Dad, Kobus was just a step behind.
Enrico called out to PN Melissa Wood for assistance. She acted immediately and baby Anna-Paula was born in the passage with the assistance of Enrico. She explains, "With the speed with which her labour progressed, we weren't able to get her into a labour room. However the baby arrived safely and received all the necessary care, despite her remarkable arrival."
In a turn of events from her previous pregnancy, it only took only 25 minutes from home, to where their healthy baby girl was born in the passage of the labour ward. It seems that Pauline held on to Enrico for dear life during her transfer to the ward as Enrico smilingly acknowledges that he has the bruises on his ribs to show for his efforts. 
A healthy, beautiful baby girl was born at 08H25.
"This was my first time seeing a birth" say Enrico.  "I felt a little faint and nauseous afterwards, and had to sit down for a bit. This was by far the best moment of my life! My normal day consists out of helping people but this was amazing and something that I will remember forever," says Enrico.
Mom Pauline afterward described Enrico and his actions, "Jy is amazing! Baie baie dankie. As jy nie gereageer het soos jy het nie, wat dan? Jy was die hero van die dag! Jy gaan altyd n legend wees in ons familie."