Recuperate in elegance and style.
Mediclinic Morningside offers luxury private suites for recovering patients who value privacy and comfort.
Luxury private suite facilities
Rooming at the facility for one adult family member for the duration of your stay (the family member will be accommodated on a sleeper couch)
Big-screen TV and selected DStv channels
Free WiFi
Full bathroom with bath and shower
Three meals per day from an exclusive menu for you and your family member
Bar fridge stocked with selected items – replenished once daily
Once-off toiletry pack
Welcome snacks, including dried fruit, pretzels and popcorn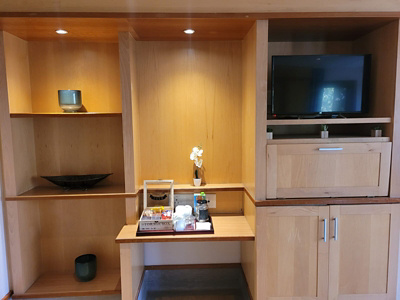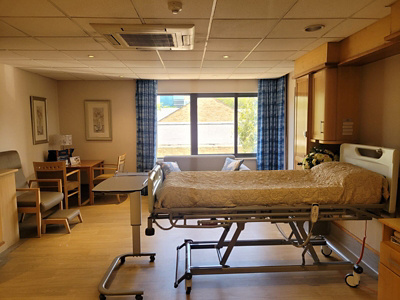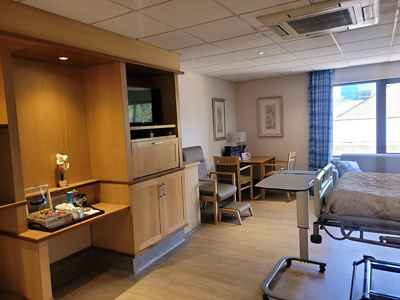 Financial information
Most medical aids do not cover the cost of the luxury private suites; therefore, we require payment upon admission to secure your stay. Should you be unable to pay on admission, we will admit you to a general room until payment for the suite has been received.
Admission and discharge
On the day of admission:
Admissions before 12:00 – the full daily rate applies
Admissions after 12:00 – half the daily rate applies
On the day of discharge:
Discharges before 12:00 – half the daily rate applies
Discharges after 12:00 – the full daily rate applies
Obstetric patients are charged per calendar day as their accounts are structured on full-day fees. Kindly note that the full daily rate is applicable even if the room is used for a portion of the day.
Terms and conditions
All suites are subject to availability and need to be booked in advance.
For more information on our luxury private suites and rates or to make a booking, please contact our team on 011 282 5000 or send an email to luxuryprivate@mediclinic.co.za.