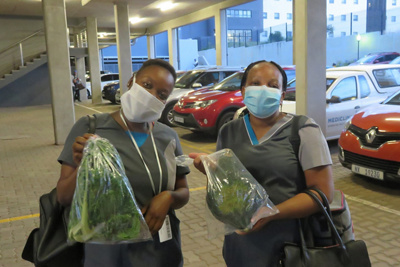 On Saturday 9 January 2021, Kerk-in-Suid delivered approximately 220 items of freshly harvested vegetables to Mediclinic Midstream. The vegetables came straight from the church's vegetable garden which is cultivated and maintained in order to supply produce to the community.
We received a colourful combination of tomatoes, spinach, green beans, butternuts and Hubbard squash. The fresh produce table was set up on Saturday evening and again early on Sunday morning for staff to collect an item as they were on their way home.
With the help of Dr Phillip De Lange, an Orthopaedic surgeon at Mediclinic Midstream, as well as a member of Kerk-in-Suid, by 8am on Sunday morning, all the produce had been given to our hard working warriors. The vegetables were extremely well received and our staff members and supportive services were grateful to fresh produce home to their families.
Many have promised to take pictures of the meals using their selection of vegetable. Kerk-in-Suid has also sent out a challenge to the rest of the community to help hospitals in any way possible.
We look forward to working closer with our community and the church in future as we continue to fight the battle against the virus. A special thanks to Kerk-in-Suid and Dr Phillip De Lange for making the Veggie Drive possible.