Mrs Chetty was recently admitted to Mediclinic Victoria for a procedure, and like many others, her thoughts were unsettled and cautious as she prepared for her admission.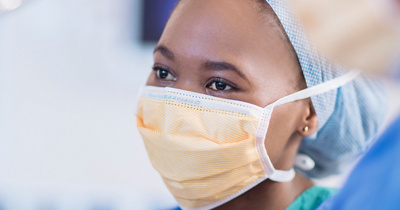 "I was utterly terrified, as this was to be my first hospital admission and first experience with general anaesthetic. Coupled with this, my husband was not permitted to accompany me due to COVID-19 restrictions. I knew the procedure was to be minimally invasive, but still harboured a general fear of needles, hospitals and the like," Mrs Chetty explains.
"When we arrived, we were greeted by a gentleman who already had my COVID-19 test result prepared for my admission. My husband and I were treated with kindness, and respect from the moment we entered. I was assisted immediately and kept abreast of every detail as we waited for instruction. This was prevalent from reception, to the maternity ward and theatre staff: at every stage, I was clearly directed and instructed. There was not a moment where I felt ignored, neglected or unsure," she details her journey.
Mrs Chetty explains that the receptionist was incredibly polite; even with the distance enforced by COVID-19 protocols, she managed to exude warmth and grace. The entire admission took no more than 10 minutes, as she was knowledgeable and efficient. Before any paperwork was signed, she took care to explain exactly what I/we were signing. I particularly appreciated her choice to go the extra mile for me, and request permission from the Maternity ward for me to bring my husband upstairs (I was, by then, rather emotional at being left alone). She was so kind and empathetic, explaining that my husband was welcome to contact the hospital for updates until I was discharged. I must note that every staff member we encountered, from the security guards to porters to nurses, greeted and acknowledged us.
As Mrs Chetty was undergoing surgery, her anaesthetist, Dr. Reddy, and her assistant went to her to discuss the procedure. "Dr Chetty's arrival was my biggest fear; as she'd administer the anaesthetic I was petrified of! She introduced herself in pre-op, and explained the steps of the procedure in minute detail; graciously clarifying my feverish questions and – bless her – not once getting annoyed with my repeated: 'I'm so scared; are you sure this won't hurt?' Dr Reddy's assistant was a breath of fresh air; a firecracker, if you will! She kept making jokes once I was wheeled into theatre and the nerves intensified; this kept me calm, which I truly appreciated. The insertion of the IV was painless – Dr Reddy's technique is to be commended," she remembers.  
Knowing that small things make all the difference, Mrs Chetty explains the kindness of those she encountered, "The nurse who took me down to theatre saw tears pool in my eyes. I felt silly and immature, but while she chatted to her colleague, she quietly rubbed my shoulder to comfort me. It might seem like a small gesture, but I was so grateful."
But this was not just a single incident. "The theatre nurse who waited with me while the theatre was being prepared explained to everyone who came to me 'This is Mrs. Chetty, and she's a little afraid, today…let's be gentle with her, please.'
While visiting was curtailed in order to reduce the risk of infection in the hospital, her husband was kept updated. "Before I asked, the nurse informed me that my husband had called while I was in theatre. The staff had updated him, and informed him I was in recovery and doing well.  My husband later remarked that he appreciated their assistance – they knew exactly whom he was asking about, and made sure to update him as he could not be with me," she recalls.
In contrast to her earlier feelings of concern and fear, she remembers the experience with positivity. "Overall, I was quite moved by the level of personal care. I was never called 'the patient' or 'ma'am'. I was referred to by name. The staff do this every day; I would surmise it would be easy for them to simply go through the motions…but, they did not. This is unique, and the mark of excellence."
When questioned about the measures in place for COVID-19, Mrs Chetty said that everything ran smoothly. "My husband and I were screened, and sanitised our hands upon entry. The gentleman at admission already had my COVID-19 result from the lab, and confirmed that we had not been exposed to the virus before I was admitted. All staff remained a distance from us at reception and, during my procedure and recovery; staff asked if they could approach me closely before doing so. So many different things were in place across the hospital to ensure that staff were prepared to handle COVID-19 and other patients."
According to Mrs Chetty, she felt that the staff were all correctly attired in terms of masks and gloves, where necessary. In theatre, a special screen was placed over my face while I was oxygenated and I was told this was for COVID-19 protection. I was given a surgical mask and, when I pulled it off a few times; was gently reminded to keep it on. 
After this experience, Mrs Chetty offers a simple piece of advice for anyone delaying care. "Trust the professionals. I chose to believe that everyone in the hospital on the day of my procedure would do the best they could for me, and I treated everyone with respect and kindness. I got it back, ten-fold."