Patients at Mediclinic Constantiaberg are now benefitting from precise and personalised knee replacement surgery with the aid of the Mako SmartRobotics™ system. As a result, patients are able to recover faster and achieve a greater degree of joint flexibility, allowing them a quicker return to normal activity.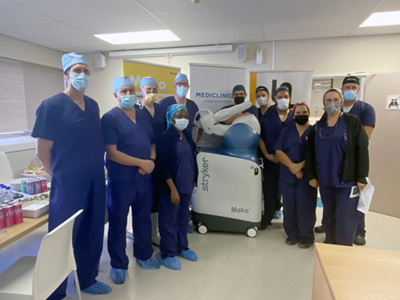 "I believe that the Mako allows us to deliver an improved quality service to our patients with better outcomes," says Dr Cecil Reid, orthopaedic surgeon at Mediclinic Constantiaberg. The Mako system transforms the way total knee, partial knee and total hip replacements are performed, by increasing the amount of information available to surgeons resulting in more accurate surgery.

On 15 June 2022, Dr Cecil Reid performed two partial knee replacements, the first robot assisted surgery at Mediclinic Constantiaberg. Mako Total Knee combines advanced robotic technology with its clinically successful Triathlon Total Knee System, enabling surgeons to have a more predictable surgical experience with increased precision and accuracy.
Four orthopaedic surgeons associated with Mediclinic Constantiaberg attended the specialised Mako training in Turkey - Dr Cecil Reid, Dr Deon Engela, Dr Nick Martin and Dr Mourad Hanna - and are now able to offer this service to their patients.
"Mako's 3D CT allows us as surgeons to create a personalised plan based on each patient's unique anatomy before surgery. During the procedure, I can review and validate that plan, making any adjustments I deem necessary while guiding the robotic arm to execute that specific patient plan," explains Dr Reid.
Total knee replacement surgery is a very common and effective treatment for patients suffering with knee arthritis. However, the success of an individual's knee replacement surgery is closely linked to the fit and function of the new knee implant. With the help of Mako, patients will experience better quality of life as its precision leaves little room for error.
"In clinical studies, the Mako Total Knee demonstrated the potential for patients to experience less pain, a reduced need for opiate analgesics, decreased requirement for inpatient physical therapy, as well as a reduction in the length of hospital stay. The studies also indicated improved knee flexion and greater soft tissue protection in comparison to manual techniques," explains Dr Reid, reinforcing his decision to make use of the system.
Hospital General Manager, Henk Laskey, believes that by introducing such advancements into the hospital, patients receive the benefit of the technology for the best clinical outcomes. "We want our patients to know that we are using the best available tools to improve their surgical experience, and thus, improve their long-term outcomes after surgery," he concludes.
For further information, please contact:
Monica Smith
Doctor Relationship Manager: Mediclinic Constantiaberg
Tel: 021 799 2241
Email: monica.smith@mediclinic.co.za